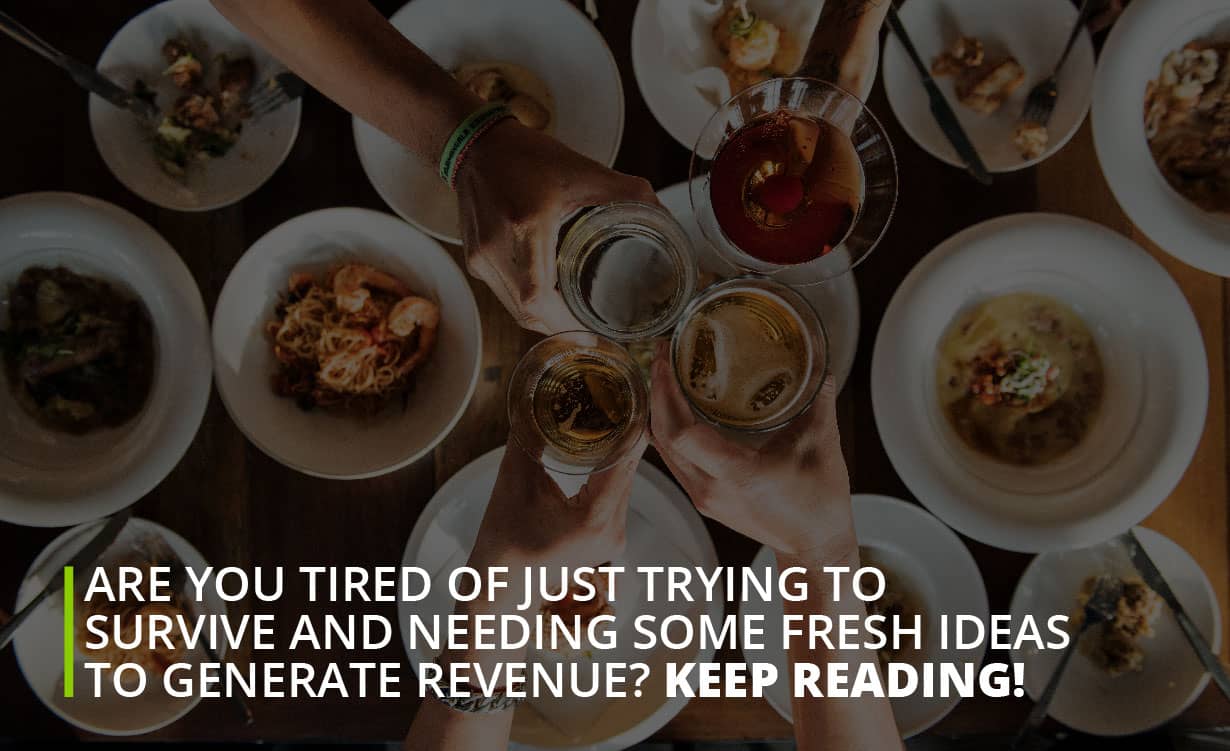 There's been a surge of creativity and resourcefulness in the restaurant industry. In our Charlotte community alone, we've seen businesses pulling out all the stops to keep their customers coming back.
Sparks of hope in the midst of what have been strange and difficult times have come in the form of ingenious strategies some restaurants are implementing in order to increase sales.
Are you tired of just trying to survive and needing some fresh ideas to generate revenue? Keep reading!
1. Adapt your Catering Menu
Catering is undoubtedly taking a hit but adapting your idea of catered events can increase your sales. People are still yearning for social connection so market your catering platters as Family Packages and target small at-home gatherings. Also keep in mind that essential businesses still need to provide food for tired workers and this is the perfect time to offer up your large combos as the perfect lunch option.
2. Create a Signature Dish
There's no better time to create a signature than now – it's time to get creative! Take advantage of the summer months by using fresh, local ingredients and experiment with a surplus of ingredients you may have in your inventory. Utilize your social media platforms to invite your customers to come in to order or get curbside pickup of this special dish they have yet to try!
3. Neighborhood Nights
A great idea we've seen implemented by some national restaurants is "Neighborhood Nights." The concept entails promoting a specific night of the week to encourage your local community to place orders on one of your special dishes (or try a theme like hamburger, or taco night), and setting up safe stations where neighbors can pick up their orders. Market it as a special community night and make a point to reconnect with your customers!
4. Enhance your Outdoor Space
Speaking of outdoor dining, it's time to spruce up that patio. Many states are making the process of accessing outdoor dining permits easier. If you already have a patio, check your local regulations to see if your property is eligible for expansion. And while you're at it, add some special ambiance with festive lighting, greenery and even throw in some live music! Returning to regular indoor dining is still a ways off so it makes sense to invest in your outdoor space.
5. Launch a Customer Loyalty Program
This time has brought out the best in customer loyalty with many restaurants surviving based on gift card purchases and takeout orders from their regular diners. Repeat customers are your most valuable clientele so it's time to reward those loyal few and encourage their continued business. Try out a punch card system and get creative with the rewards. Give incentives for every 10 takeout orders or set up a reward for a certain number of family packages ordered per month.
At Martin's Distribution, we have always strived to continuously improve our services and the quality of goods that we offer our customers and during these challenging times, we've had to get more creative, too. Our desire is to spark some hope and ingenuity in the Queen City restaurant industry as we walk through this together and inspire one another.
Now that innovation is our new essential tool for increasing revenue – have you used or seen another creativity strategy for boosting sales? Find us on social media, leave a comment, and let us know!